Neon Indian
+ Austin Premiere
+ LIVE FILM SCORE (SOLO)
+ Retrospective
@alamo drafthouse THE RITZ// DEC 4
The celebrated indie electronic-pacesetter Alan Palomo is best known for his music but did you know he's been making and scoring films this whole time? Neon Indian shares his body of music video work and introduces his latest short film and a live score in the theater.
Paired with Keepin' It Weird! (40min of our weirdest videos)
Presented by our partner, KUTX.
SORNE
+ Performance
+ Retrospective
+ World Premiere
@NATIVE HOStel // DEC 5
Primitive-futurist, multimedia artist Morgan Sorne joins us to share his interwoven music video catalog and the newest addition to his post-apocalyptic universe. Recently collaborating with Saul Williams, Earth Harp, Beats Antique and more, SORNE will be channeling this all into his solo performance at AMVF.
KESHA MUSIC VIDEO RAINBOW SURPRISE
+ KESHA CURATED VIDEOS
+ HOSTED BY DRAG SUPERSTAR, CUPCAKE
+ Q&A w/ DIRECTORS
+ SURPRISES!
@ALAMO DRAFTHOUSE THE RITZ // DEC 8
Party-girl turned social activist, Kesha is a diva, survivor and bright light! Curated by Kesha herself, we're celebrating her latest work alongside her classic videos, all along with some special messages from the artist, and more rainbow-coated surprises!

Paired with our "Lady Power" screening (40min), showcasing our strongest feminine-affirming music videos!

Hosted by KUTX personality - Laurie Gallardo - this event is sure to leave you inspired.
Co-presented by KUTX and Magic Seed.

Get LIMITED Reserved Seats!
Get 5-day Passes
Whiskey Shivers
+ Performance
+ Retrospective
+ World Premiere
@ALAMO drafthouse the ritz // DEC 8
Those darn Shivers' boys are back at it again, bringing their hijinks to the big screen with a review of their classics (hipster centipede, chicken people and spinning rooms) before sharing a BRAND NEW video full of puppets. Stick around because they'll "serenade" us with their one-of-a-kind brand of "trashgrass" to follow.

Paired with Funny or High! (40min of our most hilarious/high videos)
Presented by our partner, KUTX.
PURPLE SUBMARINE PAJAMA PARTY
Silent disco meets music videos ft.
+ Classic music films
+ Dance music
@Native hostel // dEC 6
Put on your PJ's for whatever level of hang you want. Sit back and watch classic music films, shake it off for the latest music videos, or really turn up for a silent disco dance party! Choose your own adventure.
Body Rock
AfterpartY
+ Riders against the storm
+ DJ ChorIZo
@empire control room // dec 7
Austin's banger of a hip-hop dance party will be our Friday night afterparty. Hosted by DJ Chorizo Funk and Riders Against the Storm, this will be the final installment at Empire Control Room so it's sure to get rowdy! Stay tuned for the special theme announcement.
Get LIMITED Pre-sale Tix!
Get 5-day Passes
THE AWARDS SHOW
+ SECRET PERFORMERS
+ WORLD PREMIERES
+ AFTERPARTY
+ SPIRITS: Tito's Handmade Vodka
@NATIVE HOSTEL // DEC 8
The 4th annual Austin Music Video Awards show honors our most outstanding music videos and makers showcased throughout the 5-day festival. The pinnacle of the festival week will feature pop-up performances, special guest award presenters, world premieres, and the dignifying of 16 award winners!
Exploded DrawinG: AUDIO VISUAL SESSION
Afterparty
@NATIVE HOSTEL // DEC 5
Ambient, experimental, beat music adventurers, Exploded Drawing have curated a wavvey lineup of producers and visuals sure to expand minds. From the godfathers soundfounder and Butcher Bear, to new projects Vapor Caves and pulseCoder, the lineup promises an eclectic bunch of heart throttling beats.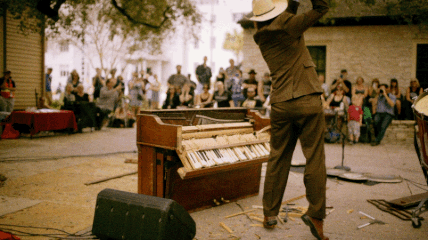 Graham Reynolds
+ Film Scoring Masterclass
+ world premiere
@NATIVE HOSTEL // DEC 6
With score credits including A Scanner Darkly, Bernie, Before Midnight and more, acclaimed composer Graham Reynolds will show us his ways in this masterclass reviewing techniques, collaborations and creative methods while sharing clips from his seminal and upcoming work.
We'll also be premiering Graham's new music video from the Blaine Brothers.
In partnership with Austin Music Foundation, Texas Film Commission, Texas Music Office, and Shure.

FREE w/ RSVP!
Get 5-day Passes
Austin
f*cking
TX, Yall!
Life changing tacos, epic parties, rad swimming/watering holes, and the most wonderfully weird inhabitants, Austin is yours for the taking! Join us at the hottest venues and screens in town to celebrate music videos with our ever-melding global community of music, film, tech and taco-lovers.
++
5 days
5 VENUES
5 Parties
THE Awards Show
World Premieres
150+ MUSIC VIDEOS
300+ Directors, CREW & BANDS
CURATION
The first three years, we brought the heat with the US theatrical debut of Beyoncé's Lemonade, a Flaming Lip's Retrospective + Costume Contest, and Okkervil River's Down Down the Deep River. Each one SOLD OUT at Alamo Drafthouse Ritz.
For AMVF #4, we return to our local roots for our featured programming, highlighting hometown heroes:
Neon Indian (Live Film Score + Short Film Premiere + Video Retrospective)

Sorne (Live Performance + World Premiere + Video Retrospective)

Whiskey Shivers (Live Performance + World Premiere + Video Retrospective

Graham Reynolds (Film Score Masterclass)
Afterparties:
Purple Submarine Pajama Party (aka silent-disco-meets-music-video)

Body Rock (w/Riders Against the Storm)

Exploded Drawing: Audio Visual Session

The Awards Show

Opening Night w/ WERD
And rest assured knowing we've hand picked 100's of incredible music videos for your viewing pleasure - some of which we promise to become the best thing you've seen this year, possibly moving you to tears, dancing, or both at the same beautiful moment!
Word to the wise: First come, first to screen. Stick around for the exclusive Q&A's.
THE AWARDS SHOW
@Native Hostel (Event Center) // DEC 8

The AMVF Awards Show honors the outstanding videos and their creators showcased at the festival. Think Austin's version of the VMA's, the pinnacle of the festival week will feature pop-up performances, special guest award presenters, and the dignifying of 16 award winners across AMVF's distinct categories including "Keepin' It Weird", "Funny or High", and the "Alright Alright Alright Award" (aka Best Austin video); among more classic categories such as "Video of the Year" and "Best Animation."

And you know the afterparty will be AMVF AF.
More deet's soon!